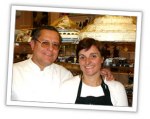 Pralinhuset is run by Mieneke and Günter Bea.
We produce our own chocolate and import pralines and chocolate truffles. The chocolate is sculptured and molded in many various forms and figures. We provide a large variation of high quality ecological chocolate, even chocolate and pralines for people with allergies.
For the production of our own chocolatebars we use all from white to only cocoabutter to dark chocolate with 100% cocoamass. The chocolate is spiced with exciting and various ingredients. For example with chili, liquorice, cardemumm, exotic fruit, saffron, wasabi nuts and even more.
Who are we?

Günter comes from Germany and has studied as a kitchen chef and chocolatier. He has also worked in Great Britain, Switzerland and Austria.

Mieneke comes from Holland and has studied as a chef and pastry chef. She has also a degree from the Hotel & Catering School in Oxford (HCIMA).

Together they have about 20 years of experience from multiple five star hotels and first class restaurants in Europe.